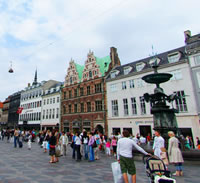 When it comes to shopping in Copenhagen, there are main areas that are designed for such purposes. One of the main shopping areas is the Stroget where a variety of specialty stores selling a wide selection of products is found. In addition, the shopping area has stylish Scandinavian clothing as well as Danish Royal Porcelain. If you love jewelry and you are seriously considering on possessing some, there is a shopping centre for jewelry in Copenhagen to cater for your needs. The most featured jewelries are those made from Danish amber which is most common in form of pendants, rings and earrings. Moreover, there are also shopping malls and markets as well found in Copenhagen inclusive of waterfront Fisketrvet complex which harbor coffee shops and other local stores which enjoy the scenic locale.
When to Shop?
There are different time schedules used for opening the shopping stores in order to enable the tourists and residents of Copenhagen as well to do their shopping in a satisfactory manner. The shopping areas open the stores from Monday to Friday staring at 9am /10am till around 5.30pm/7pm in the evening. During the weekends, you can do your shopping on Saturdays from 9am to around 4pm or at times 5pm. On Sundays some supermarkets, newsagents and bakeries as well open their stores at around 10am to around 4pm where you can do your shopping without interruptions. However, some of the stores remain closed till Monday where they begin their operations.
Where to Shop?
You can do your shopping in the famous highly pedestrianised Stroget which has many streets running through it, making the availability of many products. Kronprinsensgade shopping area which has stores like Prada, Versace and Gucci as well are a perfect place for doing your shopping. On the other hand, you can do your shopping at the Copenhagen Airport which entails several shops or simply visit the Glitzy in door shopping centre which is a mega mall comprising of about one hundred and fifty various stores.