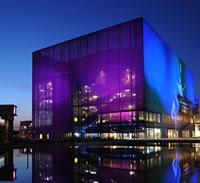 There are several museums within and around Copenhagen town and with quite a number of them being family orientated. Some of the family orientated museums in Copenhagen include Louis Tussauds Museum that is found in Vesterbro area and the Nationalmuseet which is among the oldest museums in the whole of Europe. At the Copenhagen national museum you will discover different themed aspects which include the famous Viking age, Prehistoric Denmark and a number of Middle age aspects. Close to Copenhagen national museum is Copenhagen city museum (Kobenhavns Bymuseum). This also hosts a number of interesting historic aspects you could love to know about.
Experimentarium: The Experimentarium is one of the best Copenhagen museums designed for children. In this museum, you will be allowed to personally carry out various experiments and even participate in different science based activities. The Carlberg Museum (Carlberg Museet) will give you an opportunity to explore one of the major brewing companies that ever exists in this world. The carlberg museum is located in Copenhagen Velby area where the biggest brewing company in Copenhagen had its headquarters. Here you will have to opportunity to go through the brewing process and later even have a chance to taste the actual product of what the company brewed.
Zoological museum: The zoological museum of Copenhagen belongs to Copenhagen University and the natural history museum of Denmark. This will be the best museum for those who love nature and all that nature holds. In this museum you will be able to see different types and species of animals from all parts of the world.  An estimated 10 million specimen of insects and larger animals exist in this museum. Entry to the zoological museum is free and it is opened every day except on Mondays.
Botanical museum: The botanical museum and garden is another place you can visit to see quite a large collection of dried plants, living plants, different botanical literature and fungi. At this place you will also have a chance to see some tropical fruits, exotic spices and even biblical plants. During summer, this museum is opened on a daily basis between 8:30 am and 6 pm and during winter season it is opened from Tuesday to Sunday between 8:30 am and 4 pm.
Other Copenhagen museums you can visit while on vacation include the royal Danish naval museum, the Geological museum, Karen Blixen museum, the Danish house of literature, museum of applied arts, workers museums, museum of royal stables and coaches, museum of music history and Ripley's believe it or not museum among many others.