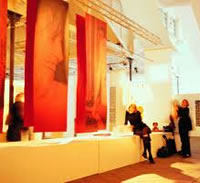 Every visitor to Copenhagen should make a point of visiting at least two art galleries. If you are to do this, then there are several art galleries for you to choose from. ART Copenhagen is an art festival that is worth noting and which is held annually in the late September and which attracts over 40 galleries from both Sweden and Denmark. Royal Danish Academy for Arts which is located within Charlottenborg Palace is known for its various art exhibitions and Kunstakademiets Udstillingssted is also worth visiting. Copenhagen is one international art gallery regularly hosts a number of Danish artists who come to exhibit their talents in Copenhagen.
Malerisamlingen Ordrupgard: Another Copenhagen art gallery is the Malerisamlingen Ordrupgard. This is located in Norrebro area of Copenhagen and although fairly small, its contents are outstanding. At this gallery you will get various Danish paintings from the 20 th century along more impressive and classical French pieces.
Statens Museum: The Statens Museum for Kunst (also known as State Museum of Art) is a commonplace for famous artists from Copenhagen and other surrounding areas in the central district of Copenhagen including Rembrandt, Titian, Picasso and Rubens to mention but a number.
Copenhagen Valby art galleries: The Copenhagen Valby art galleries are among the most recently emerged galleries in Copenhagen. Valby area host art galleries which include Larm gallery, Copenhart gallery, Bendixen contemporary gallery Helene and Mogadishni galleries. All these galleries offer both international and Danish arts pieces.
Nikolaj Udstillingsbygning: Nikolaj Udstillingsbygning is an art center that is housed by a church building and which focuses a lot on experimental and contemporary art. GI Art society is also another art center that is located in the central district of Copenhagen exhibiting exciting and beautiful new and established art from both local and international artists.
GI Holtegaard art gallery: Consider going to the north of Copenhagen to visit GI Holtegaard art gallery that hosts local and international exhibitions throughout the year. In this same location, you will get a number of summer concerts and sculpture exhibitions.  Most of the art galleries in Copenhagen open between Tuesday and Friday between 11:00 am and 5:00pm. To get more specific information on the operation hours check with the Copenhagen tourist board.