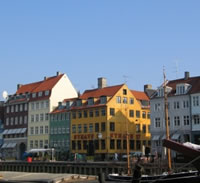 There are many tourists attractions that will be found in Copenhagen and sightseeing as well as exploration options are many for you. When in Christianshavns historic canals, rowing boats are the most popular means of exploring the attractions while boarding guided boats is the most preferred one by tourists who visit Copenhagen harbour. Alternatively, one can take a bus and make a tour around the city and this will provide for a scenic experience because it will pass through all the major attractions you would love to see. For the guided bus tours, they mainly head towards the Tivoli amusement park which is very popular among locals and foreign tourists because it has all the family oriented attractions that you will be out looking for to treat your family. There are other not so big but important attractions like the floorless looping demon roller coaster, dragon boat lake and the star flyer carousel which characterize the city's beautiful scenery and should not be overlooked when visiting Copenhagen.
Gentofte beaches - this is a very suitable attraction that is good for people who like sunbathing, swimming, sailing and playing beach games like volleyball and football owing to its pretty beaches. Many people frock there during the summer months when it is hot to enjoy these activities. Furthermore, Gentofte beaches have many stylish houses that overlook the beachfront thus providing a pleasant backdrop. They are open daily on a round the clock basis with no entry fees charged for both children and adults.

Denmark's akvarium - this one is located in the northern outskirts of Copenhagen and is popular for housing some of the best family attractions. With its existence dating back to 1930s, this attraction is one of the largest in the city with 70 different aquariums that hold up to 90, 000 liters of water and an enormous collection of fresh water and marine fish. They provide refreshment and offer views across the beach and other forested areas around the city which you can enjoy.  They are open daily but with charges depending on age since there are discounts for the children below 11 years while it's free for those below 3 years of age.

Kobenhavns havn - this attraction has been used for many years as the leading commercial port in Copenhagen since it is watery courtesy of the extensive coastline and several interconnecting canals. It has a wide range of recreational activities which tourists can enjoy with boat trips and canal tours that take in many waterfront sights and attractions. These ones open in two seasons that is between April to September and November to December with discounts given on entrance fees to children only over the two seasons.

Tycho Brahe planetariet - it is located in the southern part of Sankt Jorgens So and was open in 1989. It is a striking building surrounded by beautiful waterfront attractions and is easily recognizable owing to its column shape and dramatic sloping roof which make it stand out from the rest. Inside the building, there are many attractions that tourists will be treated to and may include large IMAX theatre and regular star shows which feature over 4, 000 stars. They are projected onto the ceiling of the auditorium offering a beautiful and captivating theatre experience for the audience which you cannot manage to miss out on when in Copenhagen. It is usually open to the public daily but the hours of operation differ while discounts on entrance fees are given to children only.

With that, it is upon you to make a wise choice when in Copenhagen on the best attractions to visit so as to make your holiday a memorable and enjoyable one.