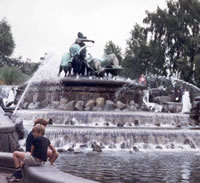 Copenhagen is filled with numerous beautiful buildings, landmarks and monuments like the sea forts of Trekroner, Middlegrundsfortet and Flakfortet. Many Copenhagen fortresses have been restored to have better standings while others are still in their previous states. Borsen is one of the oldest buildings in Copenhagen that hosts the city's glorious stock exchange. Borsen dates back to about 400 years ago at which time it was used as a warehouse, meeting place and market all at the same time. A visit to Copenhagen will not be complete without visiting the Den Lille havfrue (statue of Little Mermaid) and Denmark.
Amalienburg Palace Copenhagen monuments and landmarks. Amalienburg, Danish Monarchy comprises of four different palaces which surrounds one spacious plaza and which look almost like stately mansions that neighbor each other. The palaces: Evelzaus, Schackske, Brockdorfske and Moltkes are all impressive landmarks which date back to the 18 th century as they were all adopted in 1794 by a royal family from Denmark. The adoption of the palaces followed a fire destroying the royal family's home at Christiansborg Castle. Close by, stands Copenhagen Frederikskirken which is a breath taking Baroque church that is famous for being constructed entirely of marble. Access to this landmark is chargeable and it is open every day except Saturdays.
Borsen Kobenhavns Fondsbors landmarks and monuments. This is built above water and is surrounded by boats and canals. The house boasts an ornately spire that has three crowns which represent Scandinavian countries which include Norway, Sweden and Denmark. Borsen become the city's stock exchange in the latter part of 19 th century this landmark is opened from Monday to Thursday between 8:15am and 5:00pm. Entry to Borsen is rechargeable.
Christiansborg castle Copenhagen monuments and landmarks. For a long time now, Christiansborg castle has been Copenhagen landmark. Currently this castle is home to the Danish parliament and Copenhagen Supreme Court. Christiansborg castle has been restyled like two times following damage that was caused by fires in the 18 and 19 th centuries. Christiansborg castle is a symmetrical building that is located in a waterfront location and directly on Christiansborg square. The castle also has 328 feet spire as its centerpiece. Visit the Copenhagen tourist board for details on opening hours. Entry to this Copenhagen landmark is charged.
Den Lille H avfrue Copenhagen landmarks and monuments. Hans Christian Andersen, a Danish legend created and featured the little mermaid as one of his many fairy tales. Den Lille Havfrue statue sits on a rock in a harbor in Churchill park and its installation on that position was done like a 100 years ago. You can access this landmark at any time of day or night free of charge.
Kobenhavns Radhus (city hall). Copenhagen Radhus is a famous landmark that presides over Town hall square. This is known to the locals as Radhuspladsen.  The construction of this landmark was completed in 1905 and it is said that this hall got its inspiration from a town hall in Siena Italy. This land mark has an historical clock that contains over 1400 parts. Copenhagen city hall is opened only on Saturday from 10am to 3 pm and entry is free of charge.
Copenhagen royal castle landmarks and monuments. This landmark is located in Copenhagen center and it dates back to 1630s. This castle is styled with traditional renaissance facade and it houses Danish crown ornamentals. It is surrounded by beautiful gardens and large moats. The garden is in full bloom in summers and it is opened from Tuesday to Sunday between 10 am and 2 pm. Other Copenhagen landmarks and monuments include the Copenhagen University known to the locals as Københavns
Universitet and Frederikshavn Citadel which is a Historic fortress.