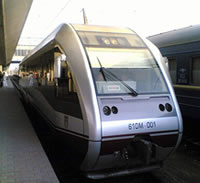 Copenhagen has a public transport network that is well maintained comprising of underground metro train system commonly referred to as the S-trains by the Danish residents. In addition, a totaling of about 10 metro line travel situated beneath the central station makes the Copenhagen town to remain busy throughout its operation. The usage of bus for traveling is very popular as well as its transport hubs which is located at the Radhuspladsen. Hovedstadsomradets Traffikselkab (HT) is the city's main bus system serving both the metro and bus transportation in Copenhagen. Passengers are permitted to travel between the two buses and trains by using one ticket.
You can get to Copenhagen through many means such as by air, car rentals, buses and coaches, trains or taxis.
Air: Copenhagen Airport provides the tourists as well as their resident with good air transport means in order to get to Copenhagen. Having its location about eight kilometers from the town centre on the southern side, the Copenhagen airport has a residing in the city of Kastrup on the Amager Island. In addition, it has a connection to the easterly cities e.g. Malmo. A shuttle bus service is also present within which offers transport services free of charge running from different terminals.

Car Rentals: An individual can use a car to travel around Copenhagen freely in a quite manageable way which makes it more popular among many people. In addition, the comfort mode of a car is more enhanced which in turn makes it possible to reach more suburban regions and attractions as well. A person using a car rental can even travel further afield in Copenhagen as a basis of reaching favorite theme parks. However, a ticket purchased from one of the precise automated machines referred to as billetautomat is required to ease your car parking in the streets.

Buses and Coaches : These are considered to be the cheapest means of travel in getting you around Copenhagen. In addition, the prices are charged on the basis of number zones you intend to pass through. Unless you hold a travel card, you are required to pay for the bus fare directly to the driver as soon as you board the buses or coaches. It is advisable for you to buy a clip card which will give you an opportunity of getting ten rides within the set number of zones.

Trains : You can get to Copenhagen via trains that are of different types. You can choose the intercity trains or S-trains known as metro trains. Choosing either of the two trains will allow you to travel with ease to the suburbs, towns, resorts and beaches as well. However, if you base your travel on the interior of Copenhagen, you can a metro train as it has the ability of offering inner city transportation in any destination you prefer.

Taxis: Many taxis that are found in Copenhagen have gained a high popularity especially to those tourists getting to the town within short journeys. These taxis are commonly found aligned at main train stations in central locations making them easy to spot. In case you don't spot one, you can request for it through telephone.