Archive for the 'General' Category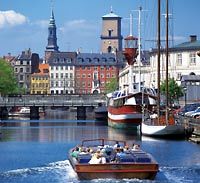 Copenhagen which is one of the biggest and most vibrant cities in the Scandinavian has been the Danish capital city for over 400 years which has seen it grow steadily over the years. It has successfully transformed from the historic center it was to a modernized tourist destination that attracts many people from across the world. With much of its landscape being fairly low-rise, it is the home to some of the historical buildings and a network of parks, public squares and green spaces. For a very long time, the coastal scenery has been a major drawcard in the city while the award winning harbour remains to be world's most important and favored cruise destination and is actually rated as the premier port in the entire of European continent. Furthermore, there is a tourist information centre where those in need of some tourist advice can visit and get fold-up maps with street indexes as well as keys to main sights. These services are also offered free of charge at the information desk within the airport.
Top Copenhagen Sights
When in Copenhagen, your day will be fully engaged since there are many things to do thus ensuring you are busy throughout. There are several attraction sites from where you will get maximum enjoyment and Tivoli amusement park is one of them and is the home to wooden roller coaster rutsjebanen. Its central location within the city makes it easily accessible to many tourists thus a more ideal sight. You can as well board a canal boat for a scenic tour of the waterfronts or spend an afternoon enjoying chilled Danish beer as well as go shopping along the stroget which is regarded as the longest pedestrian mall globally.
When there, spare some of your time to stroll around Copenhagen and see for yourself some local landmarks that are distinctive and speak a lot about the Danish history. There are also a number of world class museums that can be found within Copenhagen which you can visit when free. There is the Carlsberg museet which offers guided tours of a working brewery. The national Musset is another one which has been there for over a decade now and has many priceless Danish treasures together with an exhibition that rekindles memories of the Viking age.
Copenhagen is the place for you, If you are the kind of a person who admirers art galleries. There is the Malerisamlingen Ordrupgard which is a museum of modern art and the Statens museum for Kunst which is a state museum of art and they all promise you world class exhibitions from local and international artists. In addition, the royal Danish academy of art is full of Danish masterpieces which you can sample out. There are many more attraction sites around Denmark which are a must for visit when in Copenhagen. The suburbs are wealthy and engaging containing sandy beaches and historic castles where day trippers can relax and spend the day enjoying themselves and choices will be many for you to make regardless of your needs.